Pregnat woman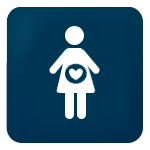 When planning a flight, check your airline's rules on travel of pregnant women. Depending on your condition and gestational age, additional medical certificates, statements, and other documents may be required. As a rule, doctor's statement confirming absence of contraindications is required. Some airlines may request prenatal record. Some airlines have restrictions on air travel of women in later stages of pregnancy.
You can contact with the Medical center of Moscow Domodedovo airport if it's necessary
If you need to get medical help in international and domestic departure areas please contact the Information Desk / call the short number *1120 /+7 495 504-02-48/+7 495 504-02-49/+7 495 933-66-66
We recommend that you confirm all this with your airlines as early as possible.
More information about traveling with children can be found in the section "Passengers traveling with children".