Airport check-in
Opening times of passenger and baggage check-in depend on the aircraft type, destination, and airline.
Contact the airline for the exact check-in opening time of any specific flight.
As a general guideline:
International flights: check-in opens 2-3 hours before departure.
Domestic flights: check-in opens 1-2 hours before departure.
Check-in closing time: generally, no later than 40 minutes before departure.
Please confirm in advance the check-in opening and closing time of your flight.
Be sure to arrive in time for your flight!
Airport check-in desk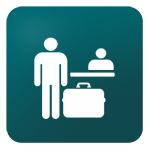 This check-in option is available at the airport to all passengers traveling with any flight.
Present your ticket and passport, check in your baggage, and get the hand luggage tag. If you have excess or oversized baggage, there is a special check-in procedure.
Check-in desk number:
When check-in opens, check-in desk number will be displayed in the online flight status form of your flight and on the departures board in the airport Terminal. Dedicated check-in desks are available to passengers traveling First and Business Class.
ПWhen check-in is complete, you will be issued your boarding pass.
Keep it until the end of the flight.
Self-service check-in kiosk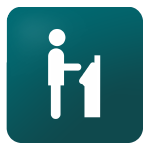 Using the self-service check-in kiosk, you can check-in for your flight,
select a seat, and print your boarding pass.
Self-service check-in kiosks are available for flights operated by following airlines:

Aegean

Austrian

AZAL

Belavia

British Airways

Egypt Air

EL AL Israel Airlines Ltd.

Iberia

Kyrgyzstan Aircompany

Lufthansa

Montenegro Airlines

Singapore Airlines

SWISS

Ural airlines
You will need:
your passport
flight information given in your paper ticket or e-ticket itinerary receipt
booking code (can be found in your e-ticket itinerary receipt).
Check in as described below:
Self-service check-in kiosks can be found in the center of the Terminal building.
Go to one of the orange self-service check-in kiosks.
On the screen, select the airline you are flying with.
Enter your booking code, last name, and flight number (as indicated in your ticket or itinerary receipt).
Choose your seat on the flight.
Print your boarding pass.