News
20 сентября 2023 10:56
In summer Domodedovo Airport served more than half a million young travelers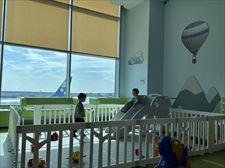 Moscow Domodedovo Airport summed up the results of air transportation of children for the period June-August 2023. More than 600 thousand young passengers went on a journey from the air harbor. Of these, about 425 thousand are children on flights to Russian destinations.
August became the most popular summer month in terms of children's air transportation: more than 215 thousand young passengers were served by Domodedovo Airport. The Air Harbor pays close attention to ensuring a comfortable and safe stay at the airport for children traveling without adults. According to the results of the three summer months of 2023, the number of independent young passengers increased by more than 46% compared to the same period last year.
It is worth noting that Domodedovo Airport has a special service for escorting minor passengers. Its employees meet and escort children from the aircraft to the meeting place with authorized relatives at the airport terminal. Airport specialists also accompany children from the check-in desk to boarding the plane, helping to pass all the stages of pre-flight control.
For passengers with children, a mother and child room is open around the clock in the common area of the Domodedovo Airport passenger terminal. There are two game rooms, a kitchen, equipped places for feeding children, changing rooms and hygiene rooms, as well as a bedroom with individual cots. There are also experienced animators who help to keep the child occupied during their stay at the airport. During the summer period, about 10 thousand children visited the room.
Also, play areas are open for travelers with children in the departure area of domestic airlines. In addition, free strollers are provided for very young passengers in the air harbor, which are located in the departure zones. In total, 75 strollers are at the disposal of travelers. At the same time, there are more than 30 changing rooms at the airport.
Contacts of the press office of the Moscow Domodedovo Airport:
Тел.: +7 (495) 795 34 27,+7 (903) 750 34 04
pr@dme.ru
www.dme.ru

Moscow Domodedovo Airport named after M.V. Lomonosov is one of the largest air hubs in Russia. In 2022, traffic amounted to 21,2 million passengers. Domodedovo was chosen for flights to Moscow by members of the world's leading aviation alliances - Star Alliance and oneworld.