News
24 декабря 2021 16:39
Domodedovo Airport invites you to look behind the scenes of aviation on New Year's Eve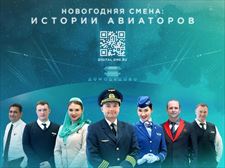 Moscow Domodedovo Airport with the partners has developed an entertaining and informative project "New Year's shift: aviators' stories". From 24 of December guests of the airport can find out what is going on at the airport and on board on New Year's Eve. You can learn more about the heroes and their adventures after visiting our web site digital.dme.ru.
The pilots and flight attendants of the Ethiopian Airlines, Lufthansa, S7 Airlines, «Ural Airlines», AirBrideCargo, Gulf Air, Izhavia, NordStar, Belavia, Red Wings, Smartavia and the Aeroexpress's train driver have prepared the most interesting stories, which let you look behind the scenes of aviation.
"Making a flight on New Year's Eve, only a few people think about who provides it. Our project will tell about people whom the change of the year finds at the service with colleagues and passengers. Despite the fact that this is a family holiday, aviators enjoy their work at this time. Why? Because on New Year's Eve they become real wizards and give joy...," - said Daria Korshunova, PR Director of Moscow Domodedovo Airport.
The airport employees and the project partner companies will tell you about the dreams come true, about beauty of nature and pleasant surprises, which can happen on New Year.
For further media inquiries, please contact:
Phone: +7 (495) 795 34 27
pr@dme.ru
www.dme.ru
Moscow Domodedovo Mikhail Lomonosov Airport is one of the largest air hubs in Russia. In 2020, the airport served 16.4 million passengers. Members of the world's leading airline alliances including Star Alliance and oneworld have chosen Moscow Domodedovo Airport for their flights to Moscow.